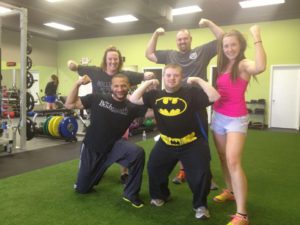 As a fitness specialist, I've dealt with many people who have unique needs and circumstances. So when my friend Mardra asked me to write a post on finding the right gym for someone with Down syndrome, I jumped at the chance. I have a client with Down syndrome and enjoy helping him stay fit.
Here are my tips to finding the right fitness partner for a person with Down syndrome:
Think small. Large, national chain gyms can be crowded, are often staffed with inexperienced trainers and provide less of a personalized experience. In contrast, at smaller facilities the staff and members can spend more time getting to know each other so that everyone feels welcome and comfortable. This comfort level is vital to creating a safer, results-driven environment and long-term success.
Plan ahead. After you have found some options, call the gyms and set an appointment to meet with the staff. Let them know that you are looking for the right partner to help a person with Down syndrome stay fit and healthy. Giving the staff advanced knowledge will allow them to be prepared since it is possible they have never worked with a person with Down syndrome.
Pay attention to your first impression. Does the sales person or staff member seem genuinely interested and concerned during your initial discussion? Does the representative actively engage in conversation with you as well as the individual with Down syndrome? If not, consider that an important sign that this may not be the right fit.
Speak with the trainer. You must meet the trainer who will be assigned to helping the Down syndrome individual work his or her fitness plan. Does the trainer have a basic understanding of Down syndrome and its implications for exercise? After all, they should be aware of the circumstances since you phoned ahead and should be prepared by doing research if they are not up to speed on Down syndrome. This can also let you know how organized they are as a company if the trainer is taken by surprise.
Atmosphere is everything. What was your overall impression? If all of the above points were adequately addressed, did anything else about the gym strike you? The gym should be clean, organized, and have an overall positive vibe from the staff and other members. You should feel welcome. If members who are working out take a second to say "hi" you may have found your "fit family."
Finding the right fitness partner is vital for helping an individual for Down syndrome to live a healthy life. As someone who trains I hope these tips help you along this path.
– Coach Brad