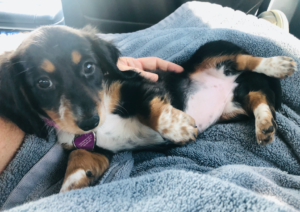 If you've seen me this week, you may have noticed I've been a bit distracted lately.
I just got back in town from a rare, week-long vacation. It was fabulous and unforgettable. But I found myself in every state from Arkansas to Indiana and back, spent 1,400 miles on a motorcycle, and had a few more late nights than normal. So, while great, my time off has left me a little drained.
To top it off, I won't be catching up on my rest anytime soon, either. I've got a new family member that's been keeping me up at night and inspired me to veer a little off track from my usual topics this week. 
Without further adieu, I want to introduce you to Trudy! She's already making sure my life is never dull. As she gets used to spending time in the gym with our members, I hope you get a chance to meet her.
I'm sure there will be more sleepless nights in my future but I wanted to give you the reason for my little detour. Rest assured I'll be back at it next week but for now, go ahead and send me a pic of your favorite pet or any advice you can give a new doggy daddy.
Talk to you soon!
– Coach Brad